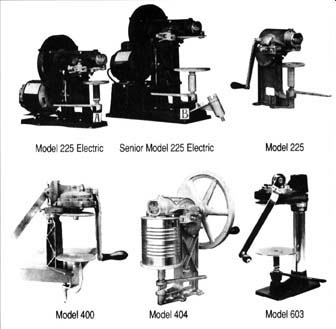 For the exact science of canning, these are the best we have found. All fully automatic for precision sealing and equipped with calibrated gauges. All models are portable and come with a "C" Clamp. Easy instructions included.
All models will seal Ness TM Cans, 307 x 113 half lb. tuna cans; 401 x 205.25 one lb. salmon cans; 307 x 409 #2 cans; 401 x 411 #2-1/2 cans and 1-1/2 lb. Canadian #1 cans; unless otherwise specified.
We have five models to choose from. Great value at a small price. These hand operated sealers will give you years of satisfactory, dependable service. Truly a safe, economical method of sealing. The model 400 is equipped to seal 8 oz., 13 oz., 19 oz., and 28 oz. cans. Sealers and Chucks for other can sizes are also available. Each includes easy to follow instructions. See below for electric can sealers.
Atmospheric models
Embarcadero Home Cannery atmospheric can closing machines are designed to seal round tin, aluminum, composite and light weight cardboard cans with lightweight lids.
They are ideal for low-volume canning and packaging operations, laboratories, pilot plants, can laboratories, coating manufacturing laboratories, IATA air shipments, biological shipping packages, EPA hazardous waste disposal overpacking, extremely hazardous chemical containment packages (poisons, oxidizers, etc.), gift packing and any other operation that needs first-class semiautomatic closing machines.
CAN SEAMING (Closing) How it Works
Embarcadero Home Cannery seaming rolls interlock the seams (see illustration below). The chuck remains stationary except during the actual double seaming process. This process is completely automatic. Minimum skill required to seal cans perfectly. Special calibration instructions included with purchase of sealer.
Click here: To see How Cans Seaming work.
Click here: To see How Jars Closure work..
Capacity
Production depends on the experience and dexterity of the operator. Electric models should produce and average of 4 cans per minute. Hand crank models approximately 2 cans per minute. For more information on electric models click here.
Standard Equipment: Each machine is completely equipped with a chuck and seaming rolls for one size can, calibration instructions, parts list, adjustment tools and lubrication instructions. Electric models also include belt guards and on/off switches.
Extra Equipment: may include change parts for different size cans, calibration instructions and parts.
To Order a Seamer Click here.
Seamer Ordering Instructions
When Ordering a Can Seamer your Purchase Order must specify:
A.   Model Number
B.   Diameter & Height of cans to be sealed
C.   Any other can sizes you will be sealing
D.   Extra equipment needed
E.   Change parts needed
F.   Spare parts required

Plus send us samples of your cans and lids. If necessary custom machined parts are an option. We calibrate and test your equipment with your cans before shipping to you.

When ordering electric sealers specify electrical requirements. Standard electric motors are 110VAC 60Hz. Special orders can be for 220VDC for either 60Hz or 50Hz (extra charge).

If you have any difficulty preparing your order, tell us and we will send you a proforma quotation.

Availability: Normally within 2 weeks after receipt of your order accompanied by 4 empty cans and loose covers of each size can to be sealed. the cans and covers are required for matching parts, calibration and testing prior to shipment.

Terms: Personal Check or Postal Money Order payable to Embarcadero Home Cannery with your Order.

Foreign customers: A bank draft payable at a U.S. Bank to the order of Embarcadero Home Cannery, payable in U.S. dollars for full value of the order plus all other expenses.
Click here for our new and reconditioned high speed cannery seamers.
Vacuum Models: Available on Special Order ONLY. Call us for information.
Can Sealer Parts, Repairs and Accessories
Chucks - Available for 211, 208, 300, 301, 303, 501 dia., or please state the height and diameter of your cans so that we may meet your specific needs.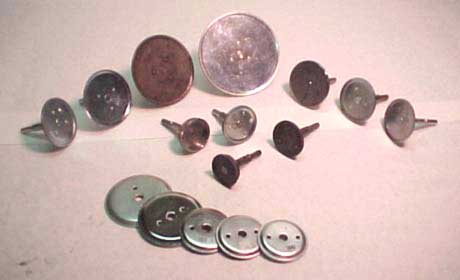 Special Ness TM base plates click here.
Do it yourself parts for sealing two piece cans.
Can Sealer/Seamer parts.
Seamer repairs.
USDA & FDA certified can sealers for small canneries available.
used high speed sealers rebuilt and certified
Can teardown tools click here