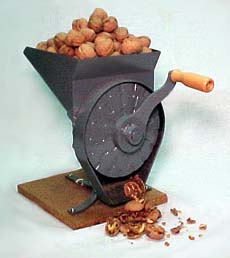 Davebilt's Nut Cracker boasts the ability to hand crack a variety of nuts in minutes. Holds more than one nut at a time. This is not a toy. Shells and meats will not fly all over the room.
10"x10"x14", 15lbs., and Portable. The heavy gauge steel and bronze bearing construction assures long life with continued use. Saves you $$$. With a simple adjustment you can quickly crack different sizes, shapes and varieties of nuts: Walnuts, Pecans, Filberts, Almonds, etc..
Cracking capacity: 50lbs. English Walnuts per hour.